Community Activities 
     JCARA is here to help their member hams and the ham community in general.  Justin, KI5KTQ has been wanting to set up his antenna and shack for some time.  When informed of the request for help, Jackson County's amateurs came to provide mutual aid.
Several of our community amateurs participated, making this happen.  WG5GK, Gus contributed his knowledge in cross-band repeat, computer skills and on sight participation.
N5AHM "Doc" (Gary) provided some LMR-400 feed-line for Justin to purchase, and provided soldering and sealing the connectors expertise for the project.  W5DDX, Joe donated the pushup poles that were handed down by W5BLX, Anthony.  A 10 amp power supply was given through W5DDX by N5PZL, Dan and a few other materials and on sight labor.  All in all a success, KI5KTQ is on the Air.
This is how it's done folks. You don't necessarily have to be on sight to participate, to provide for and actually help out your community.  Sometimes it's the donation of old equipment you have no use for lying around collecting dust, your knowledge and experience, or time and willingness to help. Everyone has something to offer.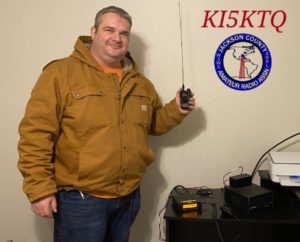 Justin, KI5KTQ is happy now that he can finally reach the repeater reliable, and is able to do it from his sofa.
Hope to see you or have your remote participation at the next event/project.  Until then  – W5DDX, Joe signing off.
(Editor's Note)  If you are able and want to strengthen our Amateur community in projects like this, please contact Joe at JCARA.VicePresident@gMail.com or the Club's primary address, JCARA.Club@gMail.com..
  You may also be interested in:
JCARA is forming a React Team.  React is short for Reactivation.  We have been aware for some time, that many seasoned Amateurs, in our own back yard/community, have equipment and antenna systems that are in need of repair.  Some going as far back as hurricane Katrina.  This year with new (younger) amateurs coming into our ranks, we have a golden opportunity for multiple win win events.  The young hands get to assist with the repairs and in turn can gain many valuable insights regarding, antenna systems, transceivers, grounding and much more from the more senior operators.   For More about React contract: W5DDX, Joe at: JCARA.VicePresident@gMail.com or the main eMail address, JCARA.Club@gMail.com..